Last updated on November 2nd, 2022 at 07:30 pm
It's frequently stated that the kitchen is the heart of the home. So it's no wonder that few renovation jobs are as popular as a kitchen redesign. A stylish, "up-to-date kitchen" is not only something that residents desire, but it is also frequently a top priority for prospective purchasers.
Unfortunately, fame comes at a price. A kitchen remodel entails costly, labor-intensive components like cabinetry and worktops, as well as an assortment of pricey equipment to replace and services from a range of contractors.
According to Angi, remodeling an average-sized kitchen costs between $25,000 and $40,000. However, large-scale renovations may cost well into the six figures, and even a simple kitchen redesign might cost between $10,000 and $15,000. Furthermore, a kitchen remodel may leave you unable to cook at home for weeks at a time, which may result in greater food expenses for take-out meals or restaurants.
Still, according to Remodeling's 2021 Cost vs Value Report, a kitchen remodel may be a smart investment, recouping between 54% and 72% of its cost. According to the National Association of Realtors' 2019 Remodeling Impact Report, kitchen renovations and improvements are the top two interior projects that increase resale value and appeal to potential buyers.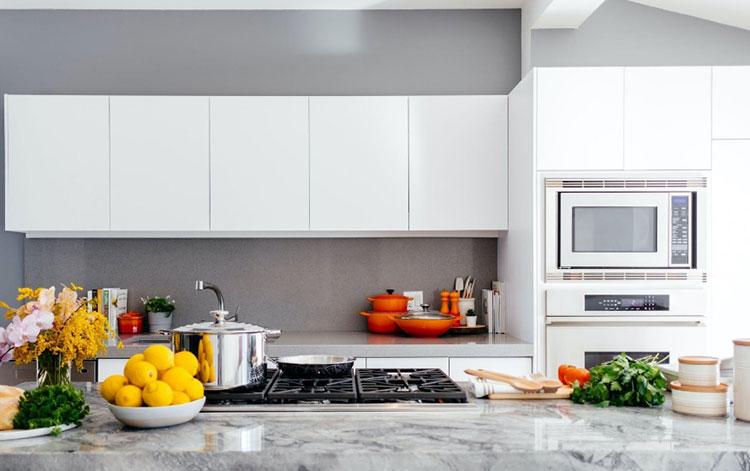 How much does a kitchen renovation cost?
Few jobs are as expensive as a kitchen renovation: According to HomeAdvisor, budget at least five digits. Of course, where you live has an influence on how much you pay. Residents of the South are likely to spend up to $20,000 less on a kitchen makeover than those in the West or Northeast. Another consideration is the sort of community in which you live: City inhabitants sometimes spend more for remodeling than folks in rural areas.
Obviously, the size of your kitchen and its components influence the cost of a renovation job. The breadth of your kitchen renovation, on the other hand, determines the price you pay.
Kitchen Remodeling Styles
Kitchen remodels are often split into three types:
Small/minor: retaining the kitchen plan while correcting details and refreshing: installing a new floor, a fresh coat of paint, and converting energy-efficient equipment. A modest makeover typically costs between $24,000 and $26,000.
Midrange: includes the addition of design components such as a kitchen island, the installation of bespoke cabinets, and the replacement of flooring and lighting. A midrange makeover costs between $69,000 and $75,000 on average.
Upscale remodels typically cost between $136,000 and $149,000.
According to HomeAdvisor, the following expenses apply based on the scale of your kitchen remodel.
Is that the most costly aspect of a kitchen?
While there is lots to spend money on in a kitchen remodel, five main components account for the majority of the expense. According to the most recent HomeAdvisor data, they are as follows:
Cabinetry
The most expensive part of the project, at 29 percent, is installing cabinets and associated hardware. The average cost of cabinets and hardware is $6,670, depending on the actual stock as well as refacing and refinishing charges.
Ventilation and appliances
Depending on the quantity and kind of appliances and ventilation enhancements you intend to install during your kitchen makeover, you may pay $1,000 to $10,000 on bespoke built-in appliances, or $200 to $1,000 on economy freestanding models. The average cost of appliances and ventilation is $3,220, accounting for 14% of the total cost of your kitchen redesign.
Countertops
Countertops typically account for 10% of the cost of a kitchen makeover and are the fourth greatest expense. The typical cost is $2,300. Paper composite countertops may range in price from $2,500 to $6,000. Marble countertops, which may cost up to $9,650, are examples of high-end countertops.
Installation
Installing all of your rebuilt kitchen's equipment and features, such as cabinets, worktops, sinks, faucets, and flooring, accounts for 17% of the average kitchen makeover cost. The average cost of installation is $3,910.
How to Save Money on Kitchen Renovations
There are several strategies to reduce the cost of a kitchen makeover. Here are a few pointers:
Select stock items: Buying pre-made models rather than personalizing your cabinets and countertops will save you thousands of dollars.
Upgrade the less costly option: Rather than replacing the entire cabinet, upgrading elements like hardware might make the overall redesign cheaper.
Maintain existing pipes and plumbing: By not relocating or replacing any of the existing piping, plumbing, gas, or electric, you can concentrate on the aesthetics of your new kitchen.
How to Decide Whether to Remodel Your Kitchen
You might be unsure whether redesigning your kitchen is a good idea. Consider the following factors to assist you in making your decision:
Funds: Do you have enough money set aside for the kitchen remodel? Will you have to use your rainy-day fund? If that's the case, Lau advises deferring any renovations until you've saved a little more – unless you want to attempt financing the project (see below).
Living plans: If you have purchased a home and want to stay for at least seven years, Lau advises upgrading before moving in. "That way, you can have everything done without having to deal with the logistical headache of renovating while living on the property," explains Lau.
How to Fund a Kitchen Renovation
Even a small makeover in a kitchen costs a lot of money. If you don't have the money (or even if you have), you should think about funding the project. Among your finest possibilities are:
Loan for individuals
Personal loans, often known as home improvement loans, allow you to borrow a flat sum at a fixed interest rate for a certain period of time. As a consequence, you'll have a fixed monthly payment, making it easier to manage the expenditure. Personal loans are unsecured as well. This means you won't have to use your house as collateral and risk losing it if you fall behind on your payments.
Takeaway: If you don't want to borrow against the value of your house or don't have enough value, a personal loan may be the best option. If you have outstanding or great credit and the capacity to qualify for the best rates and conditions, it might also be a suitable fit. However, keep in mind that certain lenders would only allow you to borrow up to $35,000 or $40,000, which may be insufficient for your kitchen makeover.
Loan for home equity
A set interest rate, payback schedule, and monthly payment are other features of a home equity loan. Unlike a personal loan, though, it utilizes your house as collateral. You will be given a lump sum of cash to go toward your kitchen renovation project. To be eligible, you must have a high credit score, a low debt-to-income ratio, and at least 15% equity in your property.
Takeaway: If you want to borrow for a greater amount (and on better terms) than a personal loan gives, have some equity in your house, and are comfortable with a secured loan, a home equity loan may be a viable option. Because the loan is being used to increase the value of your property, you may be eligible for a tax deduction on the interest.
Home equity credit line (HELOC)
A home equity line of credit (HELOC), like a credit card, is a revolving line of credit with a fixed maximum. And, like a home equity loan, you use your house's equity as security; you may borrow as much as you need, return it, and then borrow again.
Takeaway: If you're not sure how much money you'll need for a kitchen redesign, this might be a suitable option for you. HELOCs, on the other hand, include closing costs and variable interest rates, so study the fine print to figure out what your monthly payments will be and how they may fluctuate.
The following steps in your kitchen makeover
If you're ready to get your hands dirty, here's what you'll need to do for your kitchen renovation:
Do your research: Investigate local materials and contractors. You'll want to understand the prices and components of each stage of your project. Budget for extra expenses, such as dining out or storing furniture and large equipment while your kitchen is being refurbished.
Request an estimate: Get multiple quotes from local contractors to get a better sense of how much money you'll need to spend on the makeover.
Investigate financing: If you've decided to finance your kitchen renovation, gather the paperwork and financial papers you'll need to apply and, if feasible, get pre-approved. Then, go over the loan amounts, interest rates, and conditions that are being given.